Avant Garde Genre Focus:
International Largest Forum on...
European TopLess or Sheer Throughs Stylings are now making their way into the New York City scene. Here below is a commercial outgrowth of this ever expanding alternative style. It now made its way into mainstream internet sales promotions. According to observers this a catching hold in areas in which faminist power is on the increase and women are feeling safer.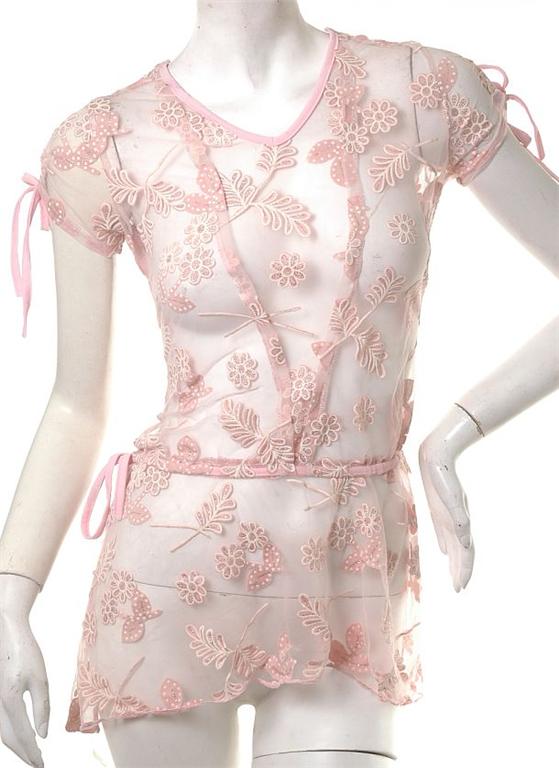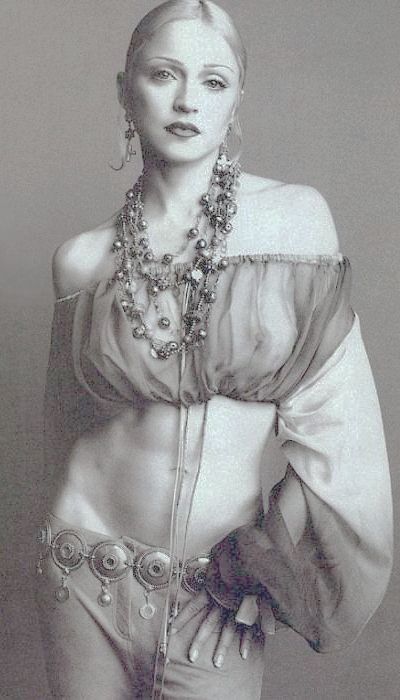 Madonna Monologue Blog
According to its manufacturer, " this design allows the alternative to choose what to wear or not wear underneath."
In discusssions within New York City, Chicago, Montreal, Paris, Milan, and Copenhagen are the reactions to Sheer Throughs - Top Less fashions among the new trendsetters of The 21 Sters ( Those who have graduated from high schools and colleges after 9/11 world wide. ) at various top of the line nightclubs. Accordingly to one conversation noted in a MySpace, " in places like Hicksville ( Long Island Community ), New York women are showing up at private parties wearing proudly their see through tops."
In addition more and more usage of recyled materials are being likewise used in the construction of these highly visable stylings denoting a real determination to make this an alternative cultural mystique. Nonetheless, it is recieving less attention in fashions centers such as in Paris, Milan, and Madrid ( which during the Summer of 2007 saw domination of high profile fashion in the city's leading fashions runways ) as increased apprearances of the genre is now making its way to be seen at many nightlife entertainment clubs.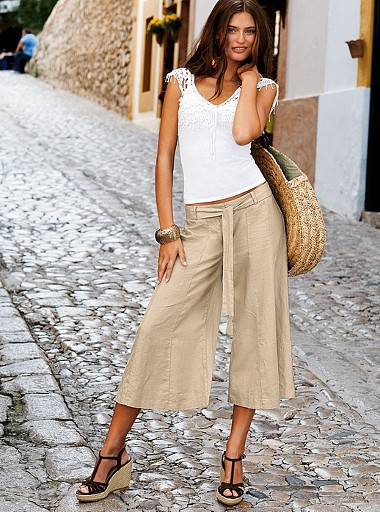 From Fashion Inc.
Gaucho Clothes is the term used to refer to the traditional clothing used nowadays by the gauchos who mainly inhabit Argentina, Uruguay and Brazil. The gauchos are the cowboys of these South American countries.
Although we find distinctive regional features, the main elements are:
The alpargatas, which is a rope sole and canvas shoe. The bombachas de campo, very strong pure cotton trousers and the boina hat. These elements all have a European origin and they started to be worn by the gaucho around the middle of the 19th century.
The alpargatas in English known as espadrilles were originally made with black canvas but are now produced with a wide range of colours and patterns; some have rubber sole as well.
The bombachas de campo are made in different colours, styles and designs but the most popular colours are still the traditional: khaki, black, white, dark blue and dark green. These trousers are immediately identifiable because of the button they have at the ankle which is used to narrow them.
The very fashionable gaucho pants similar to the capri pants are different because of this reason, they do not go down to the ankle and because they are worn mainly by women which is not the case of the bombacha de campo which is unisex.
Another element used by the gauchos which is also a very fashionable item is the poncho, used in winter to protect from the cold winters in the pampas
It can be stated that these clothing items are today worn not only by the gauchos, because as they have become fashionable, designers in Argentina have developed and improved the original designs so they have become very popular with the general public.
Another reason for the gaucho clothes fashion is the association with the polo environment. Polo players and fans have always been keen users of gaucho clothes so the association has proven a trend to follow.
For all these reasons Gauchoclothes.com is your definite website for these products.
Gaucho Clothes
Buenos Aires
Argentina
Tel 5491140336783
Fax: 15093561424
John Hunter
contact@gauchoclothes.com
Gaucho Clothes
Providing traditional gaucho clothing and gear from Argentina and Uruguay.
We specialize in the original bombacha trousers and alpargata (espadrilles) shoes as well as other clothing related items like boinas and belts.
Sisley Young F/W 2007/08 Collection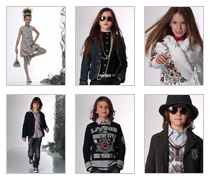 Freed from purely childish inspiration, Sisley Young becomes pure fashion. Next winter's collection shows trends that will please all fashion lovers, cross-generation looks that appeal to the fashion-conscious of all ages.
Style stories, not for mini adults but for "now" kids.
GIRL
Dandy style, punk chic. Black faux leather, tiered padded dolly jackets, "sequinned" dinner jackets, impeccably white flouncy blouses. The latest prints on loan from the rock scene.
Old England, a fragrance of old roses, prints and embroidery. Miniskirts and feminine dresses, knee socks. From the country cotton parka to the floral redingote, romantic allusions abound.
Winter flowers, jumbo flowers blossom everywhere in spite of the cold: on coats, in jacquard knits, on sweatshirts, matched with jodhpurs. Printed, embroidered, spun or woven, as long as they're brilliant blooms.
Regimental, the light of the party. Gold and silver for mini split skirts, trousers and a brocade dress with matching jacket. Satin's precious shimmers flaunts exquisite contrast embroidery alternated in black or white.
BOY
English guys, a little lord by looks and by manners. Soft colours and carefully studied sophistication. Prints – even glitter prints – thrive on sweatshirts and diamond-pattern pullovers; yarn-dyed shirts are worn with baggy or slim trousers. Parkas and blazers are a must.
Shabby club, the grey, blue and pink of the golf pro. Sweatshirts, T-shirts, close-fitting trousers and sneakers are elegant to a tee. Prints and appliqués give texture and movement to a sophisticated look.
University boys team, aka the American-style campus look. From rugby shirts to corduroy blazers, from cargo pants to the denim jacket and maxi-printed layered tops with a mascot. Team Gorilla's a winner.
Chic denim, even little boys dress up for parties! Extra-chic top, super casual bottom. Glitter and formal pinstripes team with jeans to remind us that it's a kids' world.
Fashion Industry Network Launch
The Fashion Industry Network (www.FashionIndustryNetwork.com) is a business networking community designed for the fashion industry. The network allows individuals the opportunity to develop personal profiles to highlight their professional experience in the fashion industry.

The Fashion Industry Network (
www.FashionIndustryNetwork.com
) is a business networking community designed for the fashion industry. The network allows individuals the opportunity to develop personal profiles to highlight their professional experience in the fashion industry. After profiles are created, members may freely join groups that pertain to their area of expertise. For example, if the member is a "pattern maker" they will join the Pattern Making Group. As pattern making can be considered a function of design, a pattern maker would also be welcome in the Design Group if they were so inclined. In addition, they may wish to enter into discussions with people in the Clothing Manufacturing Group.
Members are permitted to join groups in which they have direct personal expertise or simply a very strong interest in the groups topic of discussion. The idea is for both industry veterans and new members of the industry to converse and share ideas. It is a wonderful place for members of the industry to learn from one another. One member may lend assistance regarding the proper method for fusing a lapel. Another member may have experience with printing t-shirts by using cut panels. As the membership grows, more shared knowledge will be available to all.
The network is an excellent structure for open communication. Viewers may post comments or questions in the general forums, or they can post topical messages in a specific group. Members may also have discussions with one another on their personal profile pages. In addition, if the member wishes to ask another member a question in private, they can send an e-mail message.
The network has several predefined "groups" and new groups can be added based on suggestions from the sites members. The only requirement of the network, is that the discussions stay on topic. Any topic relevant to fashion, textiles, or related fields are welcome. For an example of a "related field", the site allows jewelry designers, hair stylists, makeup artists etc. In fact, the site allows groups to develop regarding warehousing, custom brokerage, import & export etc. Certainly, the fashion industry would not function with out warehousing and distribution. Therefore, if you work in a clothing warehouse you are certainly welcome to post your views. Essentially, any business function that is directly relevant to the fashion industry or textile industry is welcome at the Fashion Industry Network.
The primary goal of the network is to bring together members of the fashion industry in a friendly setting so that they that they can have open dialog regarding business matters. This site is not a "social" network. The site is a "business" network. Although you will find a friendly and sociable community, the primary function is to meet business contacts and discuss relevant business topics.
The
Fashion Industry Network
has been developed by the Apparel Search Company (www.ApparelSearch.com). As stated by the owners of
Apparel Search
, "We are very pleased to provide the fashion industry with the first online business network devoted entirely to the fashion industry. Although we have incubated the concept and developed the site, the success of the network lies in the hands of our individual members. If this network turns into the valuable tool that we believe is possible, the thanks should not go to Apparel Search. Each fashion industry expert that has joined the network deserves the praise. Again, it is the community of members that will make this site a valuable business tool".
The network has recently launched and will take time to fully develop. In time, this network will be beneficial to all that have an interest in fashion.
Source: Franklin Lakes, NJ, July 11, 2007 --(
PR.com
)-- Addition information Apparel Search Company Michael Markfeld 201 337 0994
appsearch@aol.com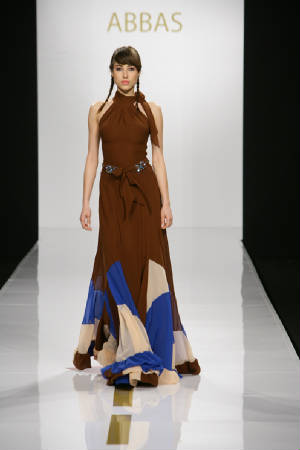 Abbas of Beirut:
A short note on who he is......
Once he finished his fashion studies in Esmod Paris, ABBAS honed his skills with apprenticeships in the most famous and prestigious fashion houses in France. He won several competitions for young creators before coming to Beirut where he devoted his time painting on clothes and textile.
In 2005 ABBAS launched his own studio in Beirut to unveil his first collection haute couturespring-summer 2006
His great
web site
.
Style Spy
[ From a Press Release ]
Trends come and go so quickly it's sometimes hard to know what's hot. But rather than have someone tell you, why not help set the trends?
style spy (http://www.stylespy.net) is the latest and most unique development in social trend-spotting. A simple-to-use and highly visual application, style spy gives you the opportunity to vote on and discuss what's hot – helping to shape trends – as well as being up to date with what's in and what's out.
"style spy is so simple, it's fun to use and we're continually working to make it better," says Allan Barger, 22, one of style spy's creators.
Unlike social bookmarking, style spy is all about charting what's hot. Trends quickly emerge as items sink or swim depending on votes from users. Content on style spy ranges from clothing and accessories to cool new gadgets, established brands to upcoming talent.
As well as being a trend bible for consumers, style spy is also a perfect tool for upcoming fashion designers and labels to promote their wares and bring their designs to the attention of a wider audience.
About style spy
Anja Cockel does it again...a newer look too!
Play with me
"It doesn't matter if you win or lose, it's how you play the game."
To me the rediscovery of playing as a motif of my collection is like the story of a love long lost and found anew.
It has only become clear to me now that this love is closely linked to a longing for the simple, childlike creativity so full of relish ?? KINDLICHEN GESTALTEN. As a child I played a lot. Especially my first "excursions" into art were characterised by games with which I conquered "my world". I spent hours dreaming of new realities. Circles, brush strokes and colour stains finally formed pictures showing hundreds of air balloons, merry-go-rounds and flying houses.
Today Anja Gockel feels as attracted to playing games as ever. She allows herself to drift with the flow and experiments with accident. Playing games is the principle according to which she creates something new from colours, shades and silhouettes.
The colour scheme is suprisingly subdued for Anja Gockel – subtle yet absolutely variable in itself.
Each game has its rules. The first rule is clarity. The second is sophistication. And the third is freedom.
Colours and Silhouettes
Our "must-have" for Winter 2007/08 is a coat in a water-repellent material with metallic sheen that protects against wind and rain. It is combined with a skin-tone tulle skirt and fine lace. The exciting silhouette and the use of these extraordinary fabrics make for an interplay of "stiff and flowing" as well as "opaque and transparent". The next group is an invitation to play with styles. Both youthfully casual and businesslike. Jersey, silk and bone lace united in a white top. This teams with a brown skirt which is flexible and versatile in shape and length thanks to drawstrings.
The hallmark of the new winter collection is a slender, austere styling. Slim-fit trouser suits, pencil skirts in masculine striped stretch fabics and flowing tops with overlapping sleeves are the winners of this game. Tradition versus innovation.
This season's colours can be broken down into three harmonious groups:
Matt "pine forest", cold "ice" and mystic "oxide" carry away players into gloomy fairytale forests. Dark "maroon", "anthracite" and " black" allow us a glimpse of the underworld. And those not catered to yet may venture to step on Anja Gockel's playing field in dark "purple", pale "mallow" and silvry "smoke".
Anja Gockel
PR Contact - Modemedia GmbH, Antje Verhoeven-Helf
phone :+49-(0)6131-30 46 20, fax :+49(0)6131-30 46 21
phone : +49-(0)211-43 96 372, fax:+49-(0)211-43 96 380
email : info@anja-gockel.com www.anja-gockel.com
email: verhoeven@modemedia.de
Rainbow Peacock Silk Velve Formal Dress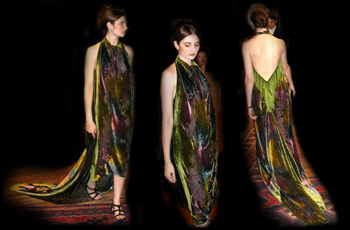 Fashion Design of the Month July, 2006
Fushion is best what describes this website.
Fashions - Trend Setters - The best of the best is only a start. The real action begins when the product lives up to the hype. Here are the best through out the world. Trend Setters can appear from any where and how it catches on is still is a puzzle. In this action there is certainly no loaded dice.
This is my personal selection. And getting here and having the ability to judge did not come easy!
Roger M. Christian
WebSite Couture
See also Fashions Trendsetters Ithaca, New York [
Blog
]advanced concepts in fashions design [
WebPage
]

Is Spain, Milan, and Paris burning with inspiration, or going in opposite directions?
A side note: Sexual violence in the areas in which these styles are worn socially, IE Caan, France are at their lowest level ever. What this means is being investigated too
See other photos - styles.
July 12, 2007 a follow up report:
From several email and other fashions forums reports have come in which states these topless fashions have been seen in a very few public clubs. And the clubs which they have been largely worn have been mostly private - non-public.
On the other hand, these fashions have been seen in mostly private parties, at times at resorts in the Med, or Carribean area. In European private parties they all are a rage and in certain upscale circles peer influences and popularity power social forces are likewise taking hold.
It looks like this trend will have long term holding power.