Stahl's colourful forecast for Autumn/Winter 2010/2011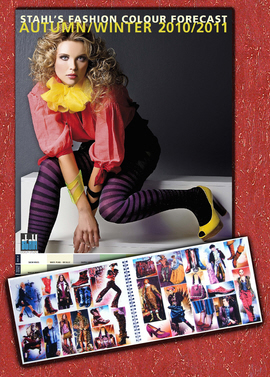 Stahl's colourful Fashion Colour Forecast for Autumn/Winter 2010/2011 should brighten these two seasons, especially for those living in the Northern Hemisphere, where, once the leaves have fallen, it can be a pretty colourless time of the year. The forecast comes in two forms, an eye-catching poster and a more detailed booklet.
The poster features a grey-eyed blonde dressed in a bright yellow scarf and shoes, red blouse and purple leggings that will brighten any office. Below the photograph is the usual series of colour swatches, grouped under six colour groups.
These colour groups are repeated in the Colour Forecast booklet, which leads with Alan Kay's quotation "The best way to predict the future is to invent it". The theme that follows says that morphing the past and the present, the old and the new, leads to a creative and innovative future that is help by new technology. This idea is demonstrated throughout the booklet which uses a fascinating and extensive selection of photographs to illustrate the thoughts behind each chapter.
This year the colour selection covers the whole spectrum. Almost any colour in the rainbow can be found somewhere, even it is toned down a little for winter. There are even one or two metallic shades to brighten playful fashions.
Starting with a look back at history, "Nobility Code" is the first group and within it "Strictly Class" are the colours that give the past a modern look of class and quality. It's not necessarily old world, an era of the grand house; dashing modern fashions need these colours too if they are to be really striking. The colours? Here is everything from rubber through sable, the colours of red wine and grapes, classic pale and dark blues and pineneedle green.
Playfulness, evening glamour, and cool modern fashion, call the group "Experimental Existentialism" to give an air of excitement, Stahl has a range of metallic colours to suite the occasion. "Metallic Rhapsody" is a world of its own. Metallics glint under the lights of an autumn or winter evening, always catching the eye. Here are the metallic effects played out on silver, gold, copper browns, gunmetals and the almost black colours of the night, leading from antique shimmer to theatrical flashes of light that unhesitatingly brighten up the shades.
"Asian Fascination" immediately calls to mind the colours and magic of the Far East. Think of the peoples of Asia, the way they dress, the way they move and the way they perform and dance. The effects are hypnotic as ancient and modern cross and recross in both landscape and townscape. This is reflected in the "Hypnotic Shadow Play" group. Here pale khaki, pale dusky pinks and frosty greys interplay with dark colours, ebony, puce, jet black and red earth.
These days, no colour palette seems complete without references to history, without harking back to the natural dyes of medieval times and earlier. Grand living was one aspect but in this sector of Stahl's colour grouping, "Smash of Styles" uses "History Brights" to create a reminders of days of early exploration, travel and settlement. Sailing ships opened up the New World and intrepid traders forged the silk routes between Europe and the Far East. Earthy colours cross the spectrum of cinnamon through browns, wines and reds into deep mauves and dark navy blues. They were perfect for the fashions of the time, and now they are perfect for creating new fashions that mirror the old.
The taste of adventure and the wilderness inspire the search for ancient treasure, the search for the "Forever Natural". Inevitably thoughts turn to warm neutral shades, the "Treasured Neutrals" that remind us of the countryside in autumn and winter as the green grass tones down to dusky green and dusky orange, the ploughed fields look like dull gold, chestnut and the dark brown of forest night. In the cool colours, grey and light brown are a reminder of stone walls and buildings out on the moors while winter white tones with these shades while perhaps reminding us the spring will not be far away.
Finally Stahl gives "Future-Retro Action" a truly exciting look into the future. With Autumn and Winter on the scene, colours are aptly named "Freeze Up". There's snow white, of course, and then a range of cold colours such as dapple grey, fieldspar green, and silver lake blue through to jet black. Here the metallic shade is white pearl-metallic, it's slightly cream hue making snow white seem even whiter.
The range of colours in this forecast is so varied that there has to be something for everyone. Will the cheerful colours help us to put the present economic problems behind us and give us something for the high street to call us back into the shops? Hopefully "Yes" and hopefully these are the colours to attract the customers.
Feature Focus:
Paris Street Styles
An International collection of reports, observations, bloggers' authorships - genre contribution, and photos.
_____________________________________________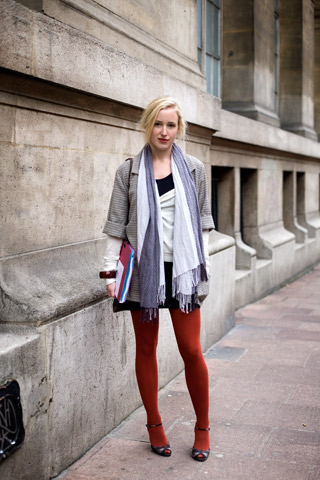 The Maltese Muse Blog.
World Largest International Forum on.
Paris, France - the city's youth and their sociocultural competitive
fashions [ Elle ]
and
trendsetters [ The Sartorialist Blog ]
drives have been fully engage in setting the stage for
future fashion creations [ Street Chic ]
. After years of hearing about Tokyo Street Fashions dominating and absorbinng more and more of the European youth market inspired - once again - this recent revolution in teen styles. " This is our traditional way in being both French and Parisian." According to one Parisian teen youth in her blog.
To nobodys surprise this has triggered a reaction with teen in Milan and they are gearing up as they gather more inspiration from their Parisian girls freinds and boy freinds. Outsiders are unaware of the growing European wide networking of dating behavior as the power of the Euro currency assist greater freedoms and options.
HRH Sirivannavari Nariratana
Recently she was the lead fashions designer Bangkok Fashions Week 2008
There are several reports that new'ly arrived social trendsetters, The 21 'sters, such as the
Pincess Sirivannavari Nariratana Thialand
have flock to Paris to be seen and written about - including what they are wearing [ Princess Nariratana was wearing selections by Dior's interpretations of Paris Street Fashions].
The overall view:
Americans have many stereotypes. This is especially true towards other cities like Paris while at the sametime not being able to see a fashions connection between Paris and Milan. Most are not aware of the cosmopolitan aspect of the emrging consciousness of European teens and young adults. This has likewise created self - stereotypes which exist in one region to another here in the United States, IE New Yorkers' view toward Los Angeles teens. The simple truth is that Europe is now developing its own superculture of youth; this is the real unity behind Europe and the sociocultural consequence of the new unified currency of the Euro.
Right now going to Paris is increasingly becoming a necessary right of passage for those who will become the new trendsetters here in America. This was the way is was before World War II. American youth and young adults and meeting with their Parisians age co - peers who are likewsie trendsetters advances, as it what going on now, the new genre which Paris Street Fashions are inspiring.
Many here still used to think Parisian are all dressed-up, as if they have just went down the catwalk/ runway. Nonetheless, as many American expatriots are now writting back home and in their blogs, and are discussing in their variouis meetups within Paris itself. now see the Parisians as being more simplified but still with that look of sophistication which makes the European distinction, IE. the way in which scrafs are draped over ones shoulder, in everything which exist with their visual view of fashions consciusness in seeing whats happening. They in turn similarly dressed out in Parisian Street Styles when returning home and noticed immediately heads being turned towards their direction.
To be dressed like millions of Europeans - each in his or her way has caused instant celeb status. Its the 1920s all over again and both returning Americans and European youth culture, there are people who really wants keep up with the latest fashion trends and wear only what is being written about in both Paris and Milan who wear inexpensive brands which this new style trend has created and don't care about the caprices of vogue. This is revolutionary, and now youth trendsetting as well-hopefully to socioculturally transcend over the Atlantic within the near future.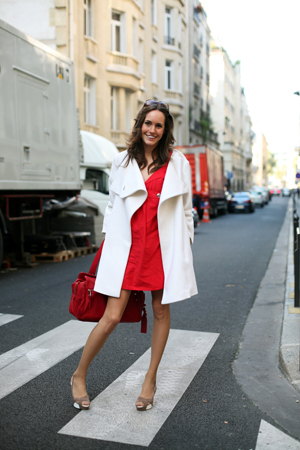 Joolicious Blog.
______________________________________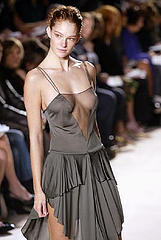 To your left: A Stella McCartney dress, Paris 2004. (link via
laverdad
)
"The Swedish chain, whose fourth-quarter profits surged 23.9 per cent as a result of its one-season collaboration with Lagerfeld, announced this morning that it is planning to woo yet more fashionistas with a 40-piece collection from Stella this autumn. Currently on a three-year deadline from
Gucci
to turn a profit at her own company, McCartney will benefit from the international brand awareness this project will provide.
"'We are thrilled to collaborate with
Stella McCartney
,' H&M's head of design,
Margareta van den Bosch
, said today. 'Her designs are modern and cool yet classic and wearable. We have long admired her sense of tailoring and femininity. Consumer research further confirmed the strong appeal of her brand. We are looking forward to bring our customers this unique collaboration this autumn.'"
Out: Tara Reid.
Raspy-voiced partygirl
Tara Reid
is, for all intents and purposes, mired in loserdust. The avalanche of bad press has blossomed into a full-fledged case social radioactivity. According to
Jeanette Walls
: