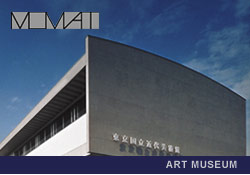 Asian Art Links and Web Sites:

Web site:
Artists.
Chiho Aoshima
Profile

Chiho Aoshima is a CG artist who creates her unique and extraordinary world through manipulation of Bezier curves, a feature of the computer software Illustrator. She constructs her works with such elements as bodily fluids, reptiles, insects, and old, concrete buildings. Her works are audaciously enlarged and printed by heavy-duty printers, not only onto papers but also onto leather and plastic surfaces, giving her works the sense of transcendence of both art and illustration.

Makoto Aida

For several years now, the Tokyo art scene has been trying its best to keep up with the work of Makoto Aida, a task made difficult by the fact that it is nearly impossible to anticipate where the enigmatic artist will go next. At the ripe old age of 35, Aida has covered most of the artistic angles with an oeuvre that includes manga, painting, video, and installation, executed with such a wide range of expressive qualities that it is difficult to believe all could have been created by a single artist.

So while most were amused, few were surprised to discover that the entranceway for the scruffy artist's latest show requires visitors to climb a three-step ladder, hoist themselves through a hole in the wall and slide down a three-meter-long "tongue" in order to get inside. Making an artful and fun entrance is what the show, "Otoko no Sake," is mostly about – the splashy installation that cover the floors and walls of the Mizuma Gallery in Tokyo's Shibuya Ward evolved over a period two weeks, as Aida worked with the eager assistance of 40 community college student apprentices.